10 Fun Disability Accessible Activity Ideas in Cairns
1. Disabled Wheelchair Beach Access
Going to the beach is a quintessential Australian experience, however all of the sand and stairway access points to the beach make it a difficult option for those in wheelchairs. There are many beaches along the coast of Northern Queensland, and luckily the 2 most beautiful beaches also have made it easier for wheelchair and mobility access.
Palm Cove
Palm Cove is a quaint little beach town about 20 minutes drive north of Cairns CBD. It is a charming and tranquil area that consists of a street running along a pristine strip of beach heading out into the Reef. There are a selection of cafes, restuarants and shops that run along the street that make for a relaxing and enjoyable day by the beach. The water is always calm and there is a netted off swimming area with lifeguards if you want to get in the water. At the end of the beach there is a long jetty, popular with many locals as a great spot for fishing.

Come visit on the first sunday of the month from April – December to experience the Palm Cove markets! Every month a great selection of craft stalls and food stalls come out and fill the whole street making for a great day out with lots of awesome local things to buy.
All places along the street of Palm Cove are accessible by wheelchair and if you want to be out in the sand on the beach, you can request to use a beach friendly wheelchair that is stored at the local life saving club. Requesting the wheelchair should be done in advance, and you will sign a waiver form and need your Carer with you (check out our home care service if you are in need of a Carer). Contact Palm Cove Lifesaving Club on (07) 4059 1244 or Surf Life Saving North Queensland on (07) 4049 1200 to book in usage of the beach friendly wheelchair.
4 Mile Beach
4 Mile Beach is another beautiful area even further north of Cairns in the tourist town of Port Douglas. As the name implies, this is a massive stretching beach with bright golden sand that stretches almost to the horizon. It is beautiful to watch the sunsets or just have a nice wander down by the water for as long as you want to go. You can book a beach friendly wheelchair for use at this beach also. It is held at the Macrossan House, and you can contact (07) 4099 4366 to book it in. You will need to sign a waiver for this one also.
If you go for the beach, the town of Port Douglas is a great visit if you haven't experienced it yet. It has many interesting clothing and shops and specialty shops and many beautiful sights to see or peaceful areas to hang out, have a picnic or otherwise enjoy the usually lovely weather. Check out this article by Queensland Tourism for a further list of all that you can do in Port Douglas and other North Queensland hotspots.
The Esplanade is the hotspot of Cairns CBD. It is a wonderfully designed walkway and park area that goes along the length of the Cairns Marina. Along the esplanade you can go to Fogarty park, a great open grass field area with a large performance stage known as the "Sound Shell". It is popular for a lot of weekend sporty activities like workout classes or games of footy, as well as being a venue for certain events to be held. If you are interested in the local events of cairns, check out a list of upcoming events on the Cairns Council Events Page.
There is also the Esplanade Lagoon, a massive pool that has been built to replicate a beach, so you can go swimming without worrying about crocodiles or jellyfish that can be found out in the ocean waters up here. There are plenty of BBQ areas if you go down for a picnic, and a board walk with informational plaques along the way. It is a great feeling atmosphere, with some pretty good buskers that like to go and perform sometimes with a street act or with some nice music to listen to. everywhere is accessible and you are close to some of the best restaurants and bars in the city.
3. Skyrail and Scenic Railway
Another one of Cairns must see attractions if you have not yet experienced it. The Kuranda Skyrail is a gondola system that starts at the bottom of Kuranda Range in Smithfield and takes you through the canopy of the worlds oldest rainforest all the way up into the town of Kuranda. There are 3 stops along the way where you can get out and walk around a pathway to lookout areas and take in some amazing sights and learn some cool information about the plants and animals in the rainforest.
They have wide cabins that make wheelchair access a possibility and all the walkways at each stop are all made accessible. Your wheelchair must come with a carer to help you get in and out and it must be able to tilt and lift up the wheels over a small gap between the platform and carriage. If you are using a heavy electric wheelchair that would not be able to do this, there are push wheelchairs that can be provided by Skyrail.
If heights and being in a cablecar is not your favourite thing, you can also take the Kuranda Scenic Railway operating from the same location that takes you up in a old style, done up train and travels along a railway built back in the 1800s that was originally used for transporting gold and people between the tablelands and the coast. Along the ride you will be presented with some historical information about the railway and the area you travel through, all while looking out the window and seeing awesome sights of all of Cairns as you travel up higher and higher. The railway also travels over a bridge and underneath a waterfall making for a pretty special experience.
On either the Skyrail or Railway, you will be taken up to the town of Kuranda, which has many things to see and do, so you can spend a few hours enjoying the day before heading back down to the bottom. There are the world famous Kuranda Markets to check out, as well as some awesome animal experiences if you want to check out Kuranda Koala Gardens or Birdworld. There are unfortunately some areas of the Kuranda Markets that have not yet been made wheelchair accessible, but getting around the rest of the town of Kuranda is otherwise easy.
You can enquire for more information or make bookings for the Skyrail or Railway on either of their websites:
Skyrail Rainforest Cableway: https://www.skyrail.com.au/
Kuranda Scenic Railways: https://www.ksr.com.au/Pages/Default.aspx
If you love aquatic life, The Cairns Aquarium is a wonderful place to go to experience, enjoy and learn about an impressive selection of aquatic animals that are found in our world famous Great Barrier Reef, as well as other cool or exotic animals from elsewhere. It is located in the Cairns CBD, and it is a very well equipped aquarium, completely disability accessible, and many great experiences to be had. There are touch tanks for hands on experiences with some awesome little critters. Every day there will also be a schedule of shows and performances to see, and interactive animal experience opportunities. As you walk through each area, you are bound to learn some really interesting new information about a particular species or about ocean life you may not have previously been aware of. The Cairns Aquarium is open every day of the year from 10am to 3pm. Check out more information on their website: https://www.cairnsaquarium.com.au/
If you want to get up close and personal with one of the 7 Natural Wonders of the World right on our doorstep – The Great Barrier Reef, you can book a cruise that will take you right out to some of the best areas to go snorkelling and swimming. Quicksilver Cruises will likely be your best option depending on your situation, their current boat, the Quicksilver VIII will take you to Agincourt Reef Floating Platform. On the Agincourt Floating Platform they have the only water powered disability access lift on the reef to allow visitors with disabilities to be gently lowered into the water and lifted back out again when they are done. This makes swimming and reef access an easily achievable option so you can really enjoy all there is to experience. Not everywhere on the platform is accessible unfortunately, the lower underwater viewing and swimming platforms, and the submersible vehicles are accessible by stairs only. The Quicksilver VIII departs from Port Douglas and is a full day trip with meals provided in the booking, it departs at around 9am and returns by 4:30pm. To read more into the details of the trip or make a booking, call on (07) 4087 2100 or visit their website: https://quicksilver-cruises.com/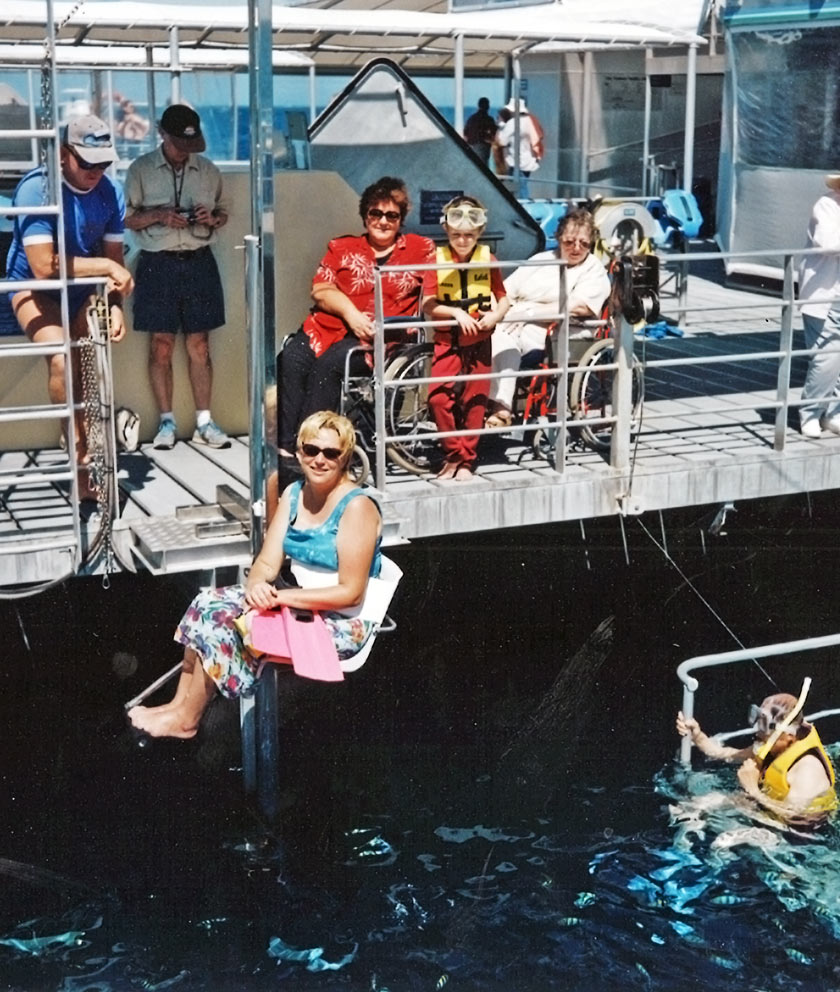 North Queensland is home to some of the worlds most interesting wildlife, and the zoos up here are really quite impressive if you want to get up close and personal with the animals and learn interesting facts about them. I list here the best of the options in my opinion, but there are some smaller zoos also worth checking out that you can find through google.
Hartleys Crocodile Adventures
You wont get more of an authentic crocodile experience than what you get at Hartleys Crocodile Adventures. You can find them on the way up to Port Douglas, and take a left turn when you see their sign. Hartleys have a massive and well designed enclosure for their approximately 20-25 crocodiles where they have more space to roam than any other zoo I have seen, they are able to socialise and live a life that would be almost exactly the same as in the wild. At Hartleys, you are able to go on a boat tour cruise around the man made river and see crocodiles come up swimming right beside you and making spectacular displays as they lunge for the food fed to them by the zookeepers operating the boat. There is also a stadium where they have regular shows that teach all of the interesting things about crocodiles and their behaviour, presented by well experienced entertaining handlers with over 20 years in the business. You don't see only crocodiles here though, It is also a fully equipped zoo with wallabies, koalas, cassowaries, reptiles and many other cool native wildlife. All of the zoo and the river cruises are disability accessible including parking and ambulant toilets. Make bookings or enquire through their website: https://www.crocodileadventures.com/
Wildlife Habitat
Located in Port Douglas, Wildlife Habitat is a prime location to visit and see Australian native wildlife and get some awesome photos and hands on experiences with animals. There are 5 separate Habitats that recreate a certain type of environment (Savannah, Wetlands, Rainforest, Nocturnal and Woodlands) to walk through and lots of different creatures to see and interact with. You can feed wallabies, or have lunch yourself in the bird cafe, where you can interact freely with friendly rainbow lorikeets. You can enter and explore for yourself, or even book a private tour is an option to be guided around the park for 2 hours with a zookeeper and get special one on one experiences with some animals you would otherwise be unable to experience. There are ambulant facilities and all pathways are mobility accessible with exeption for a viewing tower that only has stairs located in the Wetlands. Make bookings or find out more through their website: https://www.wildlifehabitat.com.au/
Cairns ZOOM Wildlife Dome
Cairns ZOOM is a unique venue with some pretty cool activities to partake in located in Cairns CBD on top of The Reef Hotel Casino. It is a high rope course within a glass dome filled with wildlife. The activities include high ropes adventures like ziplining, rock climbing, high rope climbing and swings. These activities may be less suitable for the mobility impaired, but not every disability is enough to hold some people back, so if climbing is within your abilities, it is another highly recommended experience. The activities are fun on their own but being able to do it with a bunch of wildlife right with you really makes it something more special. The HI-ZOOM, the biggest zipline course, takes you right over the top of a massive crocodile which is extra thrilling. You can also explore the dome and all of the animal enclosures to get an animal experience like any other zoo, and the walkways around the dome are all ramps and mobility accessible. Check out what they have to offer and see more at their website: https://cairnszoom.com.au/
There is a little bit of something for every type of person in this list, for the fans of geology and crystals, a wonderful place for you to visit is Crystal Caves. This is a museum located in the Atherton Tablelands that was created by Rene Boissevan, a passionate crystal collector who has collected beautiful looking crystals from all over the globe all for display here in Cairns. The museum is set up as a man made cave that you are able to walk through yourself, seeing displays of some spectacular crystals, geodes and fossils that you are able to touch and interact with. You can also purchase an uncracked geode and experience the wonder of being able to crack it open yourself and be the first to see the marvelous crystalline growth inside of it. All of the caves have been built with appropriate pathways and clearance to be completely mobility accessible and there is a gift shop to buy your own collection of crystals if it is an interest of yours. Find more information on their website: https://crystalcaves.com.au/
Fitzroy Island is only a 45 minute ferry ride from Cairns CBD, where you can enjoy the seclusion of the relaxing island atmosphere. It is a great island for watersport activities or just regularly enjoying the beach and swimming in the reef. You can visit as a day trip or stay for a few nights in the accomodation on the Island. Not all of the hiking trails and water activities that Fitzroy Island offers are completely mobility accessible, but if you have some mobility there is still a lot that can be made possible. All the base necesseties will be there for you, there will be ambulant public toilets, paths that are suitable for wheelchairs and the accomodation is also disability friendly. Feedback on the accomodation at Fitzroy Island is that the rooms are relatively small, especially if you have indoor mobility equipment like patient hoists that you need to use. We have included it in our Comprehensive Cairns Hotel Reviews page.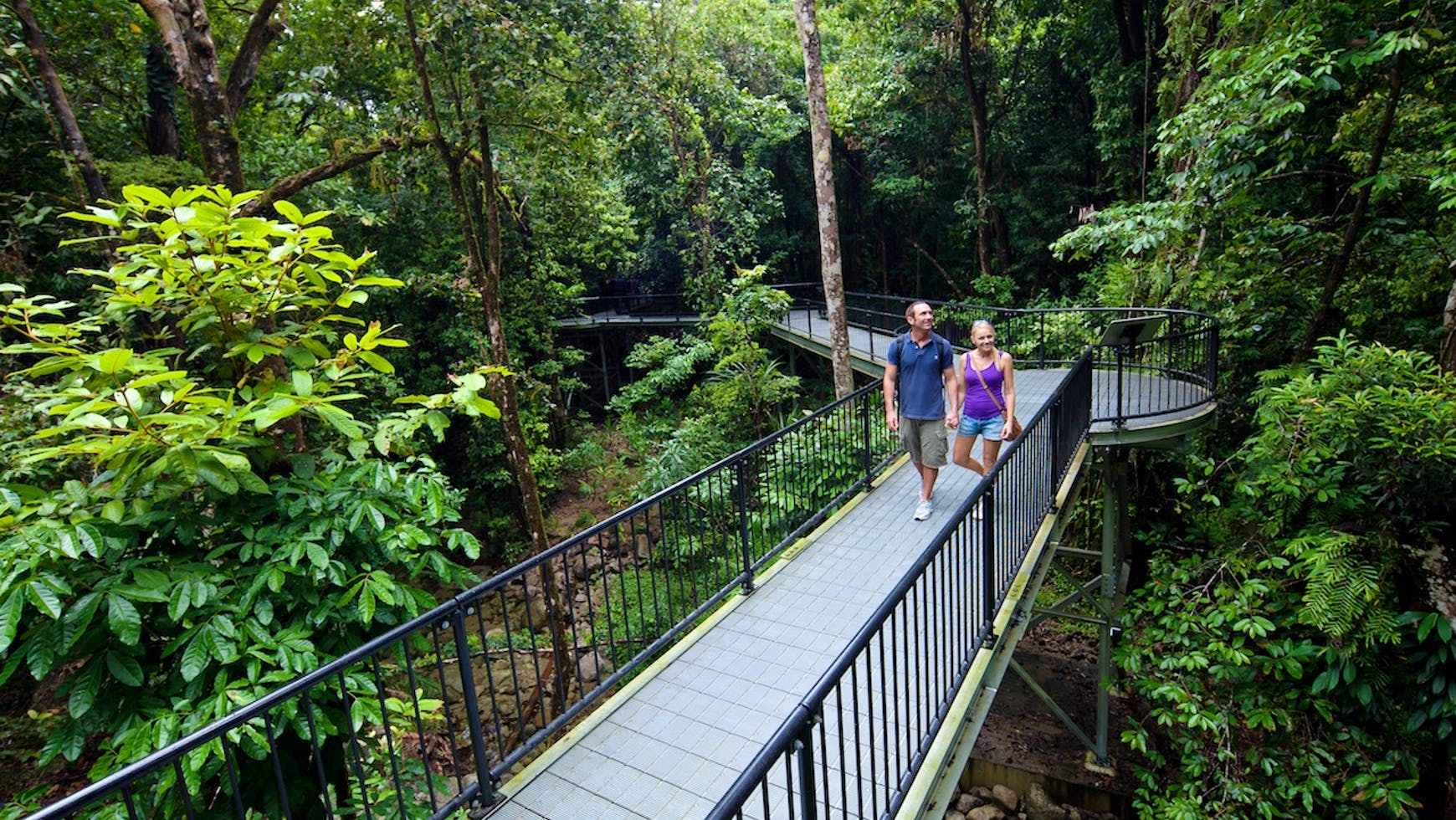 If you travel up the coast just past Port Douglas, you will reach the town of Mossman, from there you can take a bus service that will take you into the Mossman Gorge, or drive there yourself. Mossman Gorge is a beautiful section of the Daintree Rainforest that has a boardwalk walkway for ease of access. As you proceed though the walkway, you get to see some magnificient parts of nature, and if you keep an eye out you might see some of North Queenslands native species in their natural habitat. There are information plaques with some great facts about the trees and history of the forest.
Have one of the most thrilling experiences of your life and give tandem skydiving a go at Skydive Cairns. This high adrenaline activity is able to be done by anyone with any ability as long as you are within the weight limit. You will be flown up to a height of 7500ft or 15000 ft before being pushed out of the plane while being strapped to a well experienced skydiver. There is a free fall for about 30 seconds before the parachute is pulled and then you get to float slowly to the ground while you take in the amazing sights of the rainforest and The Great Barrier Reef. The experience is surreal and if you have any sort of fear of heights, skydiving will give you a whole new perspective to expose you and turn the fear into excitement. Visit their website, or call to book on 1300 663 634.